ABOUT HUB DUNAV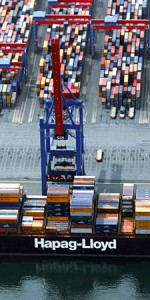 Founded in June of 2006th Hub Dunav D.O.O. represents the prestigious mega-carrier Hapag-Lloyd and is in position to offer door-to-door services to most destinations world wide, as well as maritime transport to ports around the world. In the wake of an increasing demand for tailor-made transport solutions, entirely focusing on the needs of the customer Hub Dunav D.O.O. has successfully proved to serve as a competitive and reliable partner in the transport industry. Hub Dunav D.O.O. as agents of Hapag-Lloyd offer suitable container types for any kind of cargo. The containers supplied meet all ISO requirements as well as the latest safety regulations. A worldwide inspection procedure guarantees the quality of equipment. The procedure is regularly supervised and confirmed by a certification society.
---
Our customers appreciate a professional, serious and above all dedicated approach. Each costumer is treated individually and our support is constuted around their needs. Efficiency, fairness, and openness are fundamentals of our attitude towards our customers. Aiming at creating long term relations and trust – which we strive to earn anew with each encounter.
---
Hub Dunav D.O.O. has a young, motivated and well qualified team engaged in providing ordinary and tailored transport solutions. Well equipped and fully convergent with our principal's booking systems we achieve just in time deliveries and offer state of the art tracking devices.
CONTAINER TRACKING